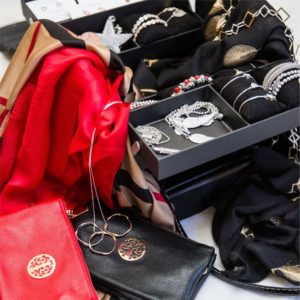 Our  "Jewellery Business in a Box" offers an exciting opportunity for you to generate additional income, either as a stand alone venture, which can easily be managed around your family and life commitments, or to position along side your own products and services if you are a hairdresser, stylist or beauty therapist.
We are confident our business will compliment your business, offering an effortless opportunity for you to earn an additional income.
Each box contains stylish, fashionable and affordable products. The contents are mixed and include a selection of jewellery, scarves and purses and can be tailored to your specific market of interest.
We pay generous commissions on all sales, there is no cash outlay, packaging is included and stock items are replenished quickly.
If you would like to discuss the possibility of working with this genuinely friendly, supportive and ambitious company then please contact Teri Chance on 07771 634404 or enquiries@terichanceboutiques.co.uk.