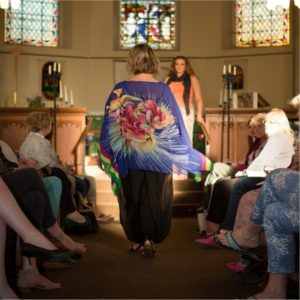 Fashion Shows
We are proud to work with charities, schools and community groups to help with their fundraising efforts by putting on fashion shows at our fabulous showroom. Our clothing is mainly one size, reasonably priced, with no need to order – all purchases can be taken away on the day.
Fashion shows held in Spring/Summer months carry clothing that is typically made from linens, silks and cottons, with the Autumn/Winter ranges made up of warmer items including soft knit jumpers, jackets and coats. In addition to the one size clothing we also offer an extensive collection of costume jewellery, bags, scarves, umbrellas and footwear.
Our fundraising fashion shows are fun and interactive. We make no charge to host the event and all we ask is you provide 6 models and an audience of approximately 50 ladies. You keep 100% of all ticket sales, raffle and refreshment sales PLUS we will donate 10% of any sales we make on the evening to your fund.
If it's something you would be interested in exploring then please get in touch.
Contact us via enquiries@terichanceboutiques.co.uk or 07771 634404 to discuss your requirements further.